Charnière pour meuble:
Laiton profilé, avec lames de côté (DC = droite ou gauche) ou au milieu (LM), avec glands décoratifs vissés, avec rondelle, avec tige en acier inoxydable.
Exécution: polie et zaponnée
Möbel-Knopfscharniere:
Messingprofil, mit seitlichen Lappen (DC = rechts oder links) oder Lappen in der Mitte (LM), mit Einschraubknöpfe, mit Laufring, mit Chromstahlstift.
Ausführung: poliert und zaponiert
Hinge for furniture:
Shaped brass, with side plates (DC = right or left) or plates in the middle (LM), with screw-in knobs, with washer, with chromium steel pin.
Finish: polished and zaponed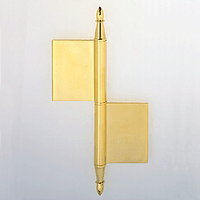 R =

H = Hauteur / Höhe / Height

DC =

LM =

L =

E =

L =

E =

8

60

80

100

25

2,0

25

2,2

10

60

80

100

120

25

2,0

25

2,2

12

120

40

2,5

40

2,5

14

140

160

51

2,5

51

2,5

16

160

180

55

2,5

50

3,5

18

180

55

3,5
Tolérances: R = ± 0,3 mm / L = ± 0,8 mm
Toleranz: H = ± 0,5 mm / E = ± 0,3 mm
Tolerances: H = ± 0,5 mm / E = ± 0,3 mm